Thai massage with hot herbal compresses
It is a massage given with the use of white cotton bags so-called compresses that contain a mixture of herbs and spices with medicinal properties.
Compresses after steam heating are releasing the essential oils. Herb compresses among the others contain lemongrass, medical ginger, eucalyptus and lime leaves, turmeric and cinnamon-tree. The massage has analgesic and anti-inflammatory properties. It positively affects the metabolism and circulatory system.
In Thailand, herbal compresses are the first aid for many different ailments.
This massage will take you into a state of soothing relaxation, and its rejuvenating properties will become an additional advantage. It will help you rest and relax. It will be helpful in the state of exhaustion of the body and severe back pain.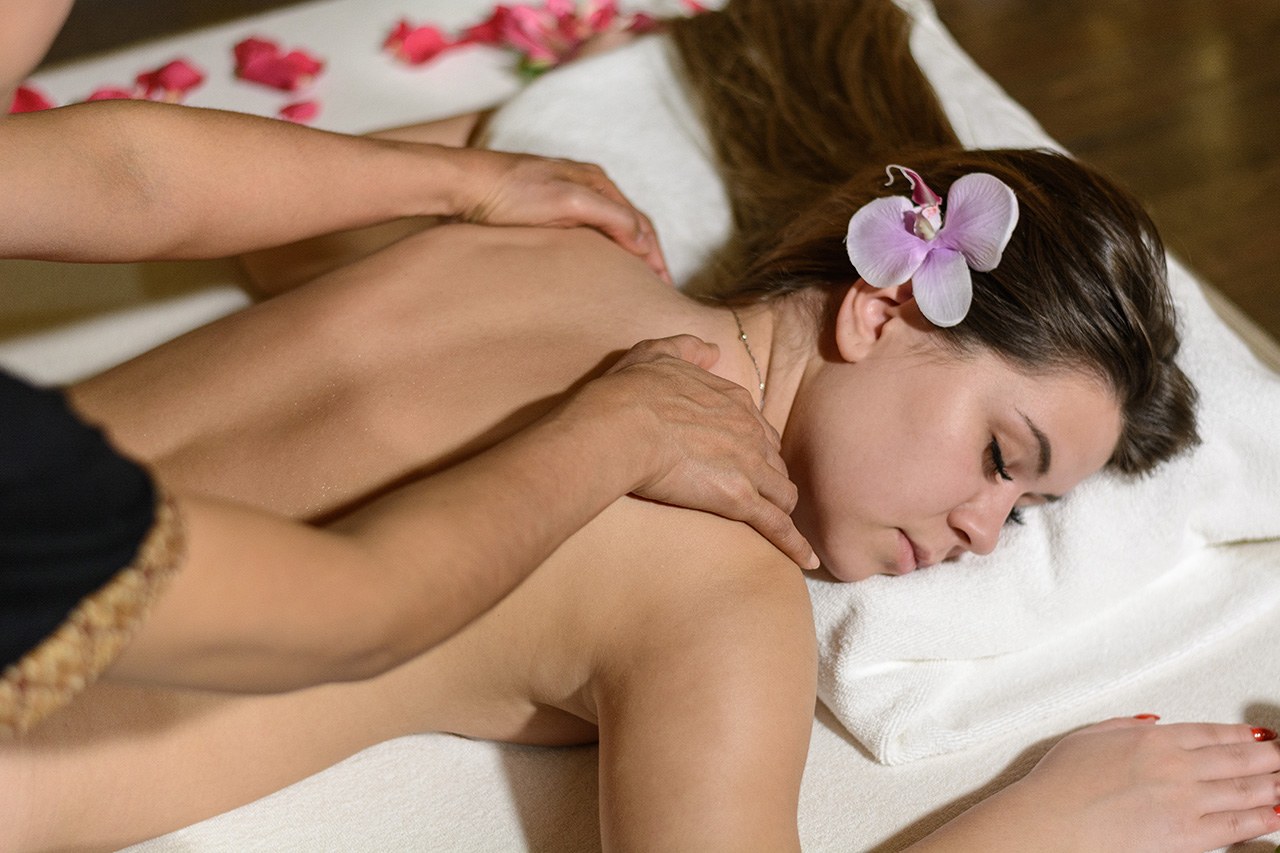 After the massage, the skin is moisturized and oiled. It regains proper firmness and healthy color. Thai massage with herbal compresses is a perfect treatment when it comes to strengthening immunity and deep nourishing of the skin.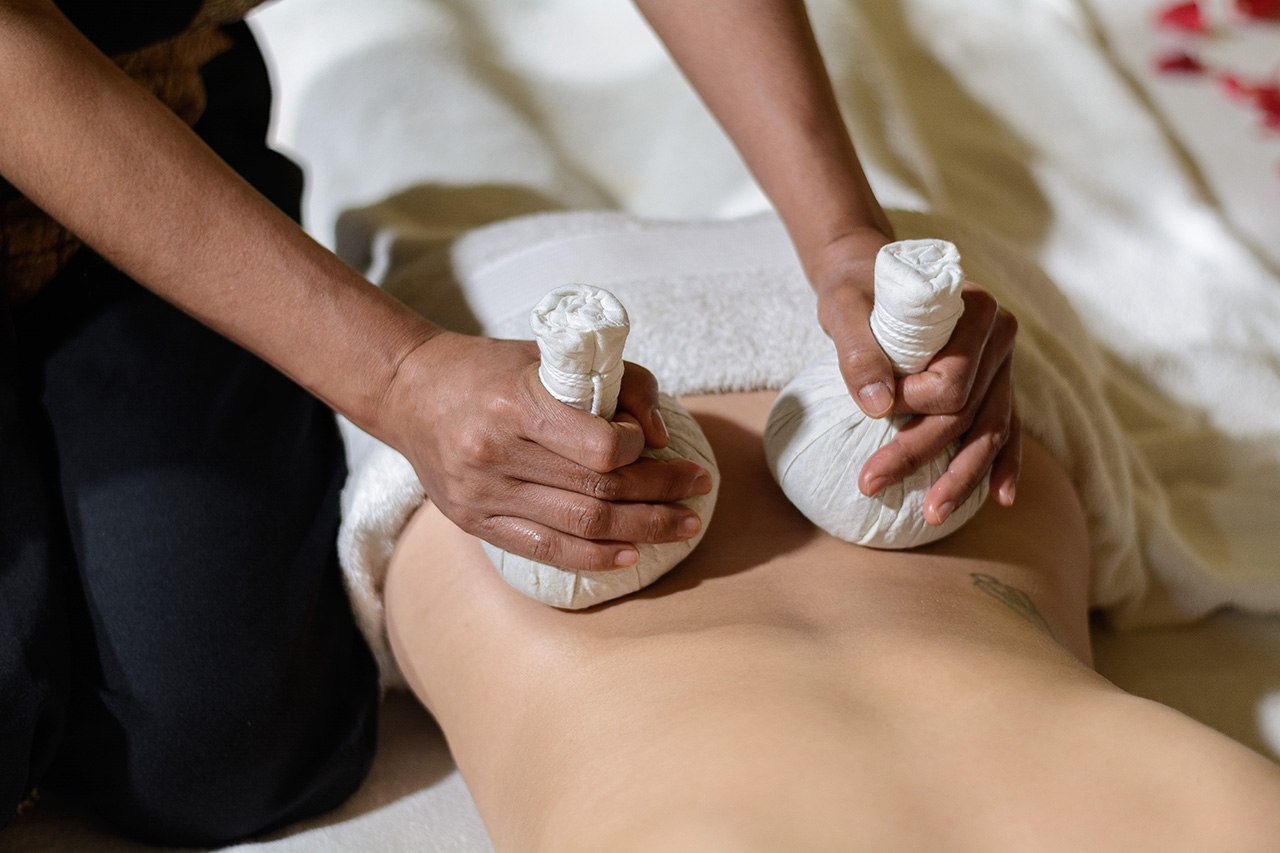 What does massage with herbal compresses look like?
Before the massage put on the disposable underwear. The first stage of the treatment is traditional Thai massage. On the body prepared in such way, the masseuse will place the warmed-up herbal compresses and then, with strong movements will massage-out the extracted oils. The heat felt during the massage relaxes and effectively relieves pain. During the massage, you will smell the herbal scents in the air. After the massage, do not wash the skin due to the nutritional effect of herbs.
Who is the massage with herbal compresses recommended for?
It is recommended for people that constantly busy and overworked, people with severe muscle pains, people that are chronically tired and stressed. Massage with herbal compresses will help reduce cellulite or lose weight. It is recommended during convalescence and after a long-term illness, people suffering from rheumatism or arthritis, people with a weak immune system, patients with gastrointestinal ailments. We recommend it to people for whom the traditional Thai massage is too intense.
Massage with herbal compresses is boosting energy and warms up.
Benefits of massages with herbal compresses
Thai massage with herbal compresses helps to regenerate life forces rejuvenate and nourish the skin, remove free radicals, remove muscle and joint tension, cleanse the body, boost metabolism, reduce tiredness, makes the immune system stronger, cleanse the sinuses and lungs. Massage is famous for its analgesic properties.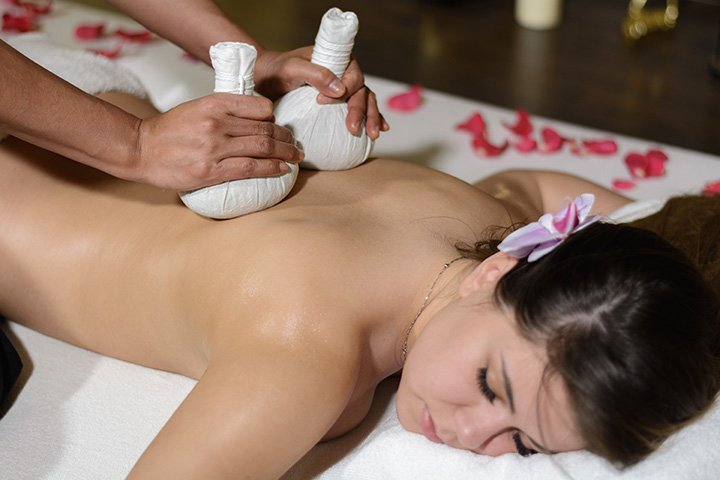 Contraindications
It might be better to reschedule the massage to another date when you are a person suffering from varicose veins, you are pregnant, you have problems with blood clotting, you are struggling with skin diseases or you have wounds on the skin or blisters.